CALL OUR EDM TECH HOTLINE 800-346-9004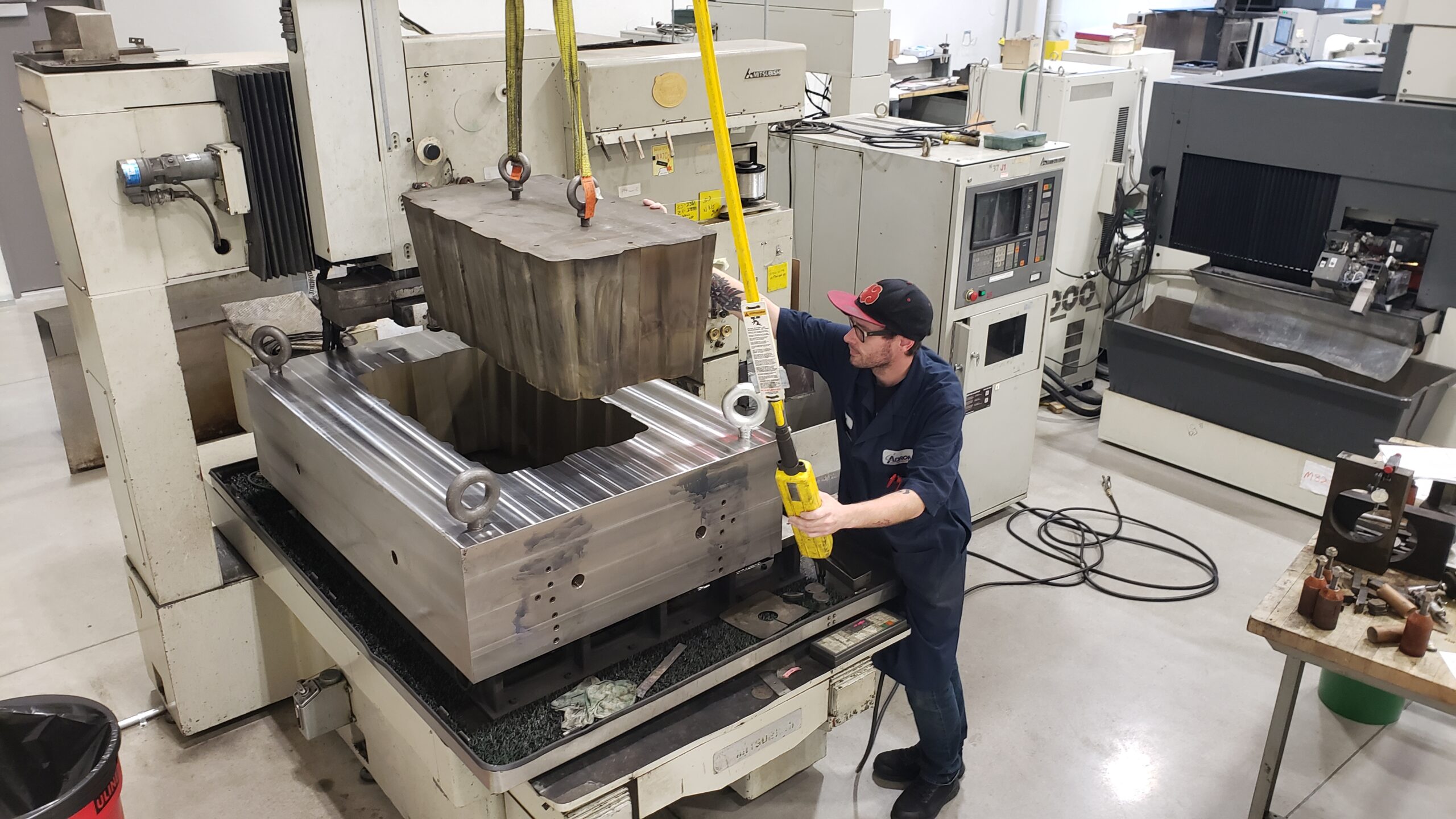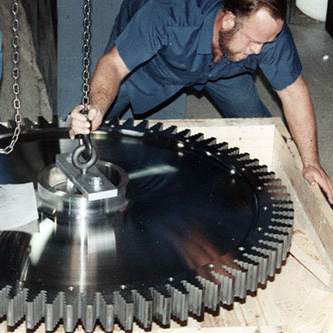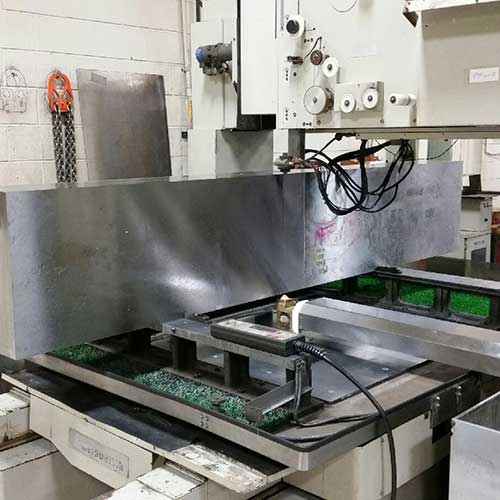 Large Capacity EDM
Wire EDM of parts up to 10,000 lbs.
Adron was the first wire EDM job shop to apply wire electrical discharge machining to ultra-large work pieces, which can weigh up to 10,000 lbs. We were the first US shop to utilize the largest EDM machine available, the Mitsubishi 400H1. Our contouring capacity is 32 in. x 40 in. x 18 in. thick.
Heavyweight Parts
A 10,000-lb. part has become a typical Adron job. We have had 9,600-lb. molds on our largest Mitsubishi machine, which we modified for cutting big molds and parts. This 8,700-pound, 40 in. x 46 in. x 16 in. thick block is typical of the large core and cavity work Adron performs for the plastic injection mold industry. Our wire EDM reduced the number of operations from six to two and did not destroy the core, which in this case weighs 2,300 lbs. This mold is for a residential recycling bin.
Large cutting dimensions
The large cutting dimensions of the Mitsubishi 400 made it ideal for a 2-1/2 lbs., 28 in. diameter part for NASA's Genesis Mission. We were able to complete the job in one set-up, assuring accuracy.
Precise alignment of curved 36 in. lengths
For metal sculptor Merlin Rostad, wire EDM achieved the precise alignment he desired. Forty-nine curved lengths were cut from a single block of aircraft grade aluminum measuring 13-1/2 in. x 13-1/2 in. x 36 inches tall.
Thin ribs
We have cut several 22-in. thick parts with thin ribs for wind tunnel balances, on the machine, contained, and holding tolerances. For the NASA wind tunnel component shown here, we cut precision strain gage ribs through 22-inch stainless steel.
Capacity = Ability to wire EDM large work pieces
Capacity = Fast throughput of jobs requiring lots of cutting
Whichever way you define capacity;
Adron delivers it!
Adron Tool Corp.
W251 N5490 Business Dr. • Sussex, WI 53089 • Ph: 262-255-4433
© 2022 Copyright Adron EDM Specialists. All rights reserved.